Mental Health First Aid Training Course One Day
Course description
This one day mental Health Champion course is ideal for businesses who want staff members to recognise the signs of someone suffering from Mental ILL Health issues such as Stress, Anxiety and Depression.
Who is the course suitable for
Employees and managers of businesses who may need to be able to recognise the signs of Mental Health problems within the workplace.
What you will learn
How to spot potential mental ill health in someone and how to communicate effectively to help and support them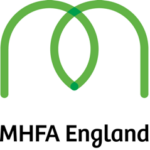 Learning outcomes:
Understanding Mental Health
Spotting early warning signs
Learning about different disorders
How to communicate and support
Certification
A mental Health Champion certificate will be awarded from MHFA England to each attendee
Duration
One day (7 hours including breaks)
Costs
£150 per person (Plus VAT on the total) with a minimum of 8 and a maximum of 12 people
All costs are inclusive of onsite delivery, travel, course books and manuals and certification
With regards to any training courses you may be interested in and we will talk you through the best training options available over the phone or by e-mail.