Emergency First Aid at Work Training Course (EFAW) One Day
Course description
This course is for people requiring First Aider status, in accordance with the Health and Safety (First Aid) Regulations. This course can be certificated through either the FAIB industry body or QCF awarding body.
Who is the course suitable for?
This 1 day course is ideal for those businesses with low to medium incident risk. The students can carry out the duties of a First Aider with this training.
What you will learn
Participants will be able to update and refresh existing knowledge and will learn easy, straight forward and common sense ways of dealing with any given situation. Participants will gain a sound theoretical and practical knowledge of first aid.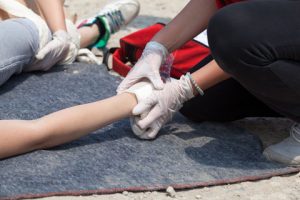 Learning Outcomes
Role of the First Aider
Legal Duties
First Aid Kits
Airway Management
Care of the Unconscious Casualty
Resuscitation (2021 Guidelines)
AED'S
Choking
Seizures
Shock (includes use of Epipens)
Wounds and Bleeding
Burns
Minor Injuries
Assessment and Certification
Certification is dependent on successful practical and written assessment and certification will be through either the FAIB or QCF both of which are valid for 3 years.
Duration
1 day (7 hours including breaks)
cost
Up to 6 people £470 plus VAT
Up to 12 people £550 plus VAT
All costs are fully inclusive of:
Onsite delivery, Travel, Course materials, Books and accredited certificates.
We work with each client individually so if you have any specific requirements please let us know prior to training.
With regards to any training courses you may be interested in and we will talk you through the best training options available over the phone or by e-mail.