Paediatric First Aid Training One Day Course
Course description
Following the consultation within the framework for the EYFS this new 1 day PFA (Paediatric Emergency First Aid) course is designed to allow child care settings to have a mixture of staff trained in first aid for children and infants.
Who is the course suitable for?
This new  course is for all newly qualified and current people who work in an early years setting, nurseries, preschools and schools.
What you will learn
Participants will learn the latest, up to date ways of assessing injured casualties as well as the extra skills required for dealing with scenarios such as spinal injuries and head injuries.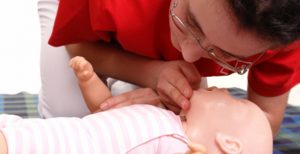 Learning Outcomes
Assessing an emergency situation
Prioritise what action to take
Be able to help a baby or child who:
Is unconscious and breathing normally
Is unconscious and not breathing normally
Is having a seizure
Is choking
Is bleeding
Is suffering from shock (severe blood loss)
Assessment and Certification
After completing practical and written assessments, successful attendees will receive an accredited certificate valid for 3 years.
Duration
1 day (7 hours including breaks)
Cost
Up to 6 people £450 plus VAT
Up to 12 people £525 plus VAT
All costs are fully inclusive of:
Onsite delivery, Travel, Course materials, Books and accredited certification
We work with each client individually so please let us know if you have specific requirements prior to training.
With regards to any training courses you may be interested in and we will talk you through the best training options available over the phone or by e-mail.