Paediatric First Aid Training Two Day Course
Course description
This Course is designed for Child minders, Nannies, Playgroup personnel and anyone whose profession involves the care of infants and young children. Courses accredited with various Councils.
Who is the course suitable for?
This 12 hour (2 day) course complies with Ofsted National Standards relating to First Aid for people working with children and infants and Sure Start requirements for the Department for Education, Early Years Foundation Stage (EYFS).
What you will learn
The training involves the theory required and practical exercises  using infant and child size manikins and covers how to deal with emergency situations involving children and infants.
Learning Outcomes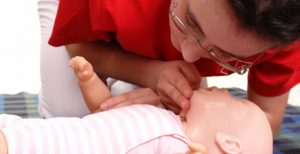 Day 1
Emergency Plan
Set Up and Barriers
Initial Assessment and Recovery Position
Cardio Pulmonary Resuscitation
Choking Management
Illness Assessment
Respiratory Problems
asthma, croup, epiglottis
Allergic Reactions
Meningitis
Sickle Cell Anaemia
Seizures
Diabetes
Day 2
Revision and Practical Assessment
Contents of First Aid Kits and Accident Reporting
Control of Bleeding
Shock Management
Injury Assessment
Spine and Head Injuries
Fractures and Dislocations
Eyes, Ears, Nose Problems
Burns including electric shock
Poisoning
Exposure to Cold and Heat
Theory Assessment
Assessment and Certification
After completing a final assessment successful candidates receive a recognised certificate valid for three years.
Duration
2 days (7 hours per day including breaks)
Cost
Up to 6 people £750 plus VAT
Up to 12 people £895 plus VAT
All costs are fully inclusive of:
Onsite delivery, Travel, Course materials, Books and accredited certification.
We work with each client individually so please let us know if you have any specific requirements prior to training.
With regards to any training courses you may be interested in and we will talk you through the best training options available over the phone or by e-mail.